Recommended
Prague
accommodation
Mosaic House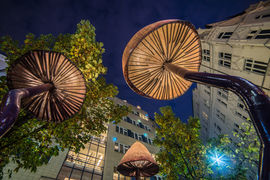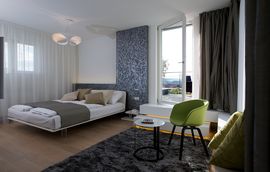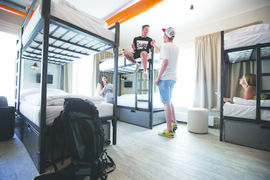 Mosaic house is generously supporting the Fringe by accommodating 19 of our volunteer Festival Assistants for the duration of the festival and hosting various Fringe events.
www.mosaichouse.com
Tel: +420 221 595 350
Email: info@mosaichouse.com
Address: Odborů 4, 120 00 Praha 2
FRINGE DISCOUNT: 20% off best available rate all year round with code: FRINGE
From hostel-style dorms, to private rooms, to fully-furnished apartments - Mosaic House offers a full range of unpretentious, comfortable and affordable accommodation with the quality and style of a design hotel. Located in the centre of Prague's New Town district, a couple of blocks from the river and a short walk or tram ride from the Fringe zone.
MOOo Apartments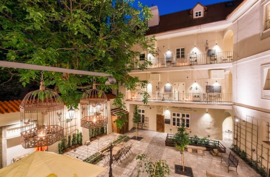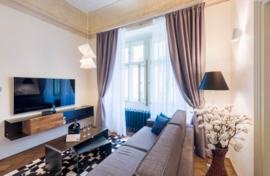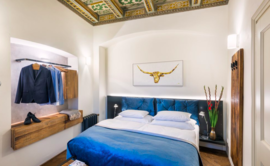 www.mooo-apartments.com
Tel: +420 277 016 830
Email: castle@ / mooo-apartments.comdowntown@mooo-apartments.com
Address: Jánský vršek 312/8, 118 00 Praha 1-Malá Strana / Myslíkova 263/22, 120 00 Praha 2-Nové Město
FRINGE DISCOUNT: 20% off best available rate all year round with code: FRINGE
Mosaic House's sister company offering unique, beautifully renovated, luxury apartments in two different locations in the centre of Prague. MOOo Downtown is next door to Mosaic House, close to Karlovo Namesti, and MOOo by the Castle is, as the name suggests, nestled at the base of Prague Castle in the Fringe zone.
Asten Hotels - Hotel Golden Key & Hotel Klárov
Asten Hotels are generously supporting the festival by providing 4 rooms for festival management staff and housing our Fringe venue, Golden Key.
www.astenhotels.com
Tel: +420 603 143 131
Email: reservations@hotelklarov.cz
Golden Key: Nerudova 27, 110 00, Prague 1
Hotel Klárov: U Železné lávky 567/12, Prague 1
FRINGE DISCOUNT: 15% off all bookings during festival dates with the code FRINGE
Asten hotels offer high quality rooms and suites, each with flat screen TV, WiFi, and antique furniture.
Old Crooked Beams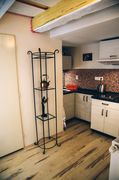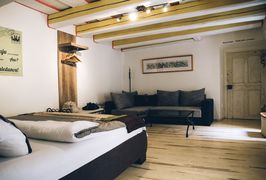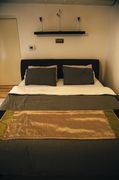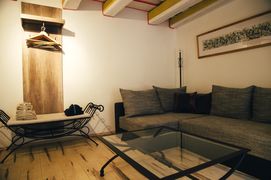 Old Crooked Beams are generously supporting the festival by providing accommodation for a member of the management team.
www.oldcrookedbeams.com
Tel +420 604 212 613
Email: mark@oldcrookedbeams.com
Location: St. Nicholas Church, Malostranské náměstí, Prague 1, Malá Strana, Czech Republic
Situated amongst baroque buildings evoking memories of times gone by. Thick medieval walls and unique crooked beams transport you into old Prague. Classic architecture is balanced with modern conveniences to provide the perfect escape.
An incredibly comfortable bed is ready for you to fully rest and recharge. A separate kitchen is equipped with a double hob, kettle, and fridge-freezer. There is a modern shower and all linen provided. A selection of books, by Czech authors, are provided to help you while away the time and capture the evocative bohemian spirit that pervades this magical city.
Sister locations also available, ask for more information.
Bohemia Apartments
www.bohemia-apartments.com
Tel: +420 606 757 284
Email: reservations@ bohemia-apartments.com
Address (office): Jungmannova 36/31, palac Adria, recepce A, Praha 1
Bohemia Apartments offer self-catering accommodation in stylish apartments right in the city centre of Prague. Beautiful historical buildings coupled with chic interior designs and tech-savviness are the things which make Bohemia Apartments stand out. You will love the superb locations in the Old Town or New Town, perfect views of Prague and a unique graceful ambience of the apartments.
Bohemia Apartments offer 1- to 3-bedroom apartments which accommodate up to 12 people as well as studio apartments. All apartments are fully furnished and very tech savvy with Smart TVs, Netflix and Spotify apps.
Bohemia Apartments are known to provide great customer service before, during and after your stay and they run a great blog with many tips of Prague which is worth checking out before you arrive.

Please mention FRINGE when you book.